Read our latest newsletter, The Circular.
Women's Giving Circle Receives Special Recognition from Rochester Area Community Foundation
The Community Foundation recognized the Rochester Women's Giving Circle for reaching its 10th year and for surpassing $1 million in grantmaking at its Annual Luncheon on Tuesday, September 19th. The award underscores the value of our collective giving model in improving the lives of women and girls in our community.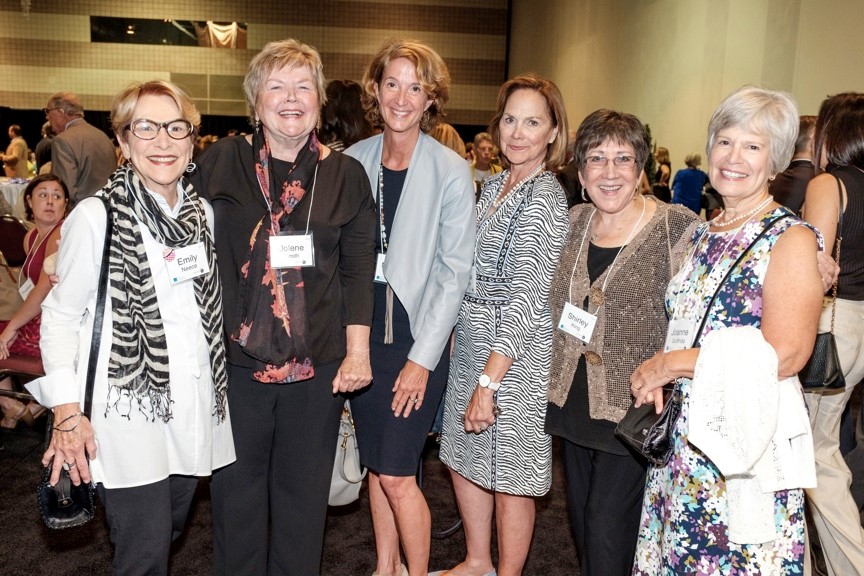 2017 Grant Breakfast
The Rochester Women's Giving Circle awarded $175,300 to ten local nonprofits at our annual grant breakfast on June 21, 2017. This year's grant recipients were chosen from 21 proposals, collectively requesting over $346,000. The ten awards ranged from $6,000 to $25,000 (click here to see the list and amounts). In addition, we announced changes in our leadership. Nancy Bloom, former co-chair of the Grantmaking Committee, will step into the Circle's co-chair position, joining Melinda Andolina, and replacing Shirley King. Shirley will continue to serve as a valued adviser to the Circle and will participate in our upcoming strategic planning process.
Democrat and Chronicle Features RWGC Founder, Shirley King
On June 18, 2017 the Democrat and Chronicle highlighted the remarkable work of RWGC founder, Shirley King. The feature article, entitled "A giver from her heart, Shirley King prepares to step down," describes the journey that Shirley and a group of friends undertook to change the lives of women and girls in poverty. "King's impact on the community, as well as her story from corporate America to local philanthropist, makes her an admirable figure in the community…" We couldn't agree more. Congratulations Shirley!
New Opportunity to Support the Giving Circle
Over the past few years, a number of members and friends of the Giving Circle have asked if we could accept bequests or significant gifts outside of the annual membership contribution. We can now! We've created a Charitable Investor Fund, linked to us, for just for this purpose. The Community Foundation will hold and invest our funds until we put them to use.
Donations to this fund will still serve our mission of advancing economic independence for women and girls, but will be granted out as we find worthy opportunities. These may include:
supporting high-impact, multi-year grants
augmenting our regular programmatic grant pool
funding research on measurement and evaluation
If you'd like further information, please use the form on the Contact Us Page (select the category – Charitable Investor Fund) or call Maura Baron at the Community Foundation – (585) 341-4407.