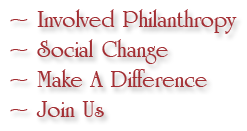 The Rochester Women's Giving Circle (RWGC) is a community of philanthropic women who combine their financial strength to support area women and girls on their journey to economic independence. Annual grants are made to programs and organizations in Monroe County, NY that help women and girls gain the education and skills necessary to earn a living wage.
RWGC's philosophy is 'money in/money out'. Each year, all membership contributions are given out in grants, and the process starts again the following year. As an all-volunteer organization with no overhead, almost 100% of member contributions go directly to programs for women and girls, thus maximizing the impact of members' dollars.
The Giving Circle is also a learning community, where members gain new insights into philanthropy as a vehicle for social change and find reward in being directly involved in shaping the future of our community.